Mount Glorious Mountain Trails
A tough and beautiful 22km run with 1200m of climb and 650m of descent. The race leads from Cedar Flats via the top of Northbrook Mountain and England Creek to the rainforest at the top of Mount Glorious, finishing at the clearing opposite the Maiala picnic area.
Results for 2021 are here
Register online
Course Details
Where
Cedar Flats second picnic area, Red Cedar Park, Dundas 4306
When
Sunday 13 November 2022
Entry Fees and conditions
Participants must be over 18 years of age on the day.
TRAQ member – $60.00
Non-member – $75.00
Refunds are available up to two weeks before the event (less a $20 admin charge).
Event field limit
There is a restricted total number of participants for the event which varies each year.
Participant InfO
See detailed info here <TBD>:
Note : times for 2022 are to be determined
05:00 – Recommended arrival time for bus transport
05:15 – Bus transport to the race start leaves The Gap
06:50 – Wave 1 race briefing
07:00 – Wave 1 start, Wave 2 race briefing
07:05 – Wave 2 start, Wave 3 race briefing
07:10 – Wave 3 start, Wave 4 race briefing
07:15 – Wave 4 start
11:15 – Bus transport return to The Gap
12:00 – Bus transport return to The Gap
This is a remote area so carry your own water (1L); top-ups are at three self-help points and the one manned midpoint checkpoint at England Creek. There will be no cups so you must carry a refillable container.
Post-race brunch including sandwiches, fruit and liquids are free. After-race gear will be transferred from start to the finish by the small bus.
If you bring your family/friends and want to make it a longer visit, the Maiala picnic area is a great spot for some further R&R.  There are toilets, picnic tables, barbecues and water (boil before drinking) at Cedar Flats.
Getting there
On entry you nominate to come by car or bus; the cost is the same.
Bus entries mean we can offer a larger field since car parks are limited at Mt Glorious. The bus leaves from the Park N Ride at the end of The Gap on Waterworks Rd (near the Enoggera Dam).
If you travel by car to the start: it takes 70 minutes from Brisbane central to travel via Mt Glorious to Red Cedar picnic area (White Cedar is for other members of the public). Please add time to register and get ready etc. At Red Cedar follow marshals directions to car parking.
Please share a car to travel to and from the race to reduce the traffic on the mountain and the pressure on limited car parks. Online entry asks if you can help others, or if you need a lift. If you respond yes, we will get you in touch with other runners in your area.
Drive safely and be very careful in wet weather, because the road can be slippery. Use a low gear on the descent of Mt Glorious.
From Brisbane: via Kelvin Grove Rd, left into Samford Rd, straight through Samford roundabout onto Mt Glorious Rd, right at top of range to Mt Glorious township, continue north along range then descend past Wivenhoe Lookout to the second picnic area at Cedar Flats.
From The Gap: Waterworks Road, which turns into Mount Nebo Rd, follow all the way over Mt Glorious down to the flats.
From Ipswich: Follow Ferndale and Wivenhoe-Somerset Rds
From Cedar Flats valley climb east up the ridgeline firebreak, it is initially steep, but then runnable. Turn left at the first junction, then right at Northbrook Mountain junction and go down to England Creek (midpoint and manned check point) then there is a continuous 600m climb up to the top of Mount Glorious.
When you are about to reach the top, turn left onto the historic stone-lined western ridge single trail through the rainforest. There are a few stone stairs you will climb to reach the Western Window from which it is a flat run to the finish at the clearing opposite Maiala Park. Also, see map and profile below.
The course is on the west side of the ridge, which sounds relatively cool with trees providing shade over much of the course, but it can be hot in February, so make sure you wear appropriate gear, sunscreen and carry water.
This is a remote area so carry your own water (1L); top-ups are at three self-help points and the one manned midpoint checkpoint at England Creek.
There will be no cups so you must carry a refillable container.
General Information and Contacts
There are 4 start waves, wave 1 is the fastest.  If you think you may have a chance to be among the fastest 3 men/women, make sure you enter in wave 1, because the prizes go to the first three women and men over the finish line.  We don't take your wave into consideration.  (However, the published results will be adjusted by wave).  
Conversely, if you are a slower runner, make sure you enter in wave 2, 3 or 4 .  Please note that the start time difference between the first and the last wave is only 15 minutes, and only 5 minutes between waves.
Mount Glorious has limited parking facilities at the start and at the top of the mountain, and the traffic can be a bit dangerous as well, so please consider taking the bus from The Gap Park 'n Ride (no extra expense).
If you do go by car, make sure you share it with friends who also participate or please indicate that you would like to car pool.  We will get you in touch with others who live in your area. You will see some transport questions as you complete your entry. 
Please note that after the race bus transport is provided to get you back to your car at the start line.
The bus(es) from The Gap will leave at 5:30am.  You will register on the bus, and I will instruct the driver to leave The Gap at the latest at 5:30am to ensure you will have plenty of time to get to the start line.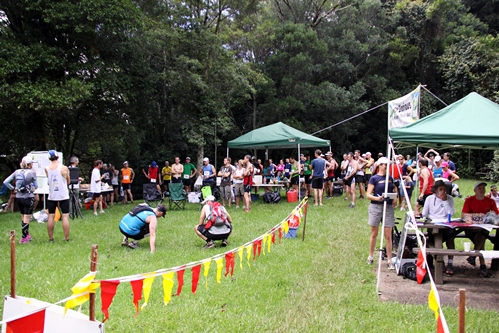 Julie Ellett, Race Director
Mount Glorious Mountain Trails
Please email me for further race enquiries: julieellett@yahoo.com.au